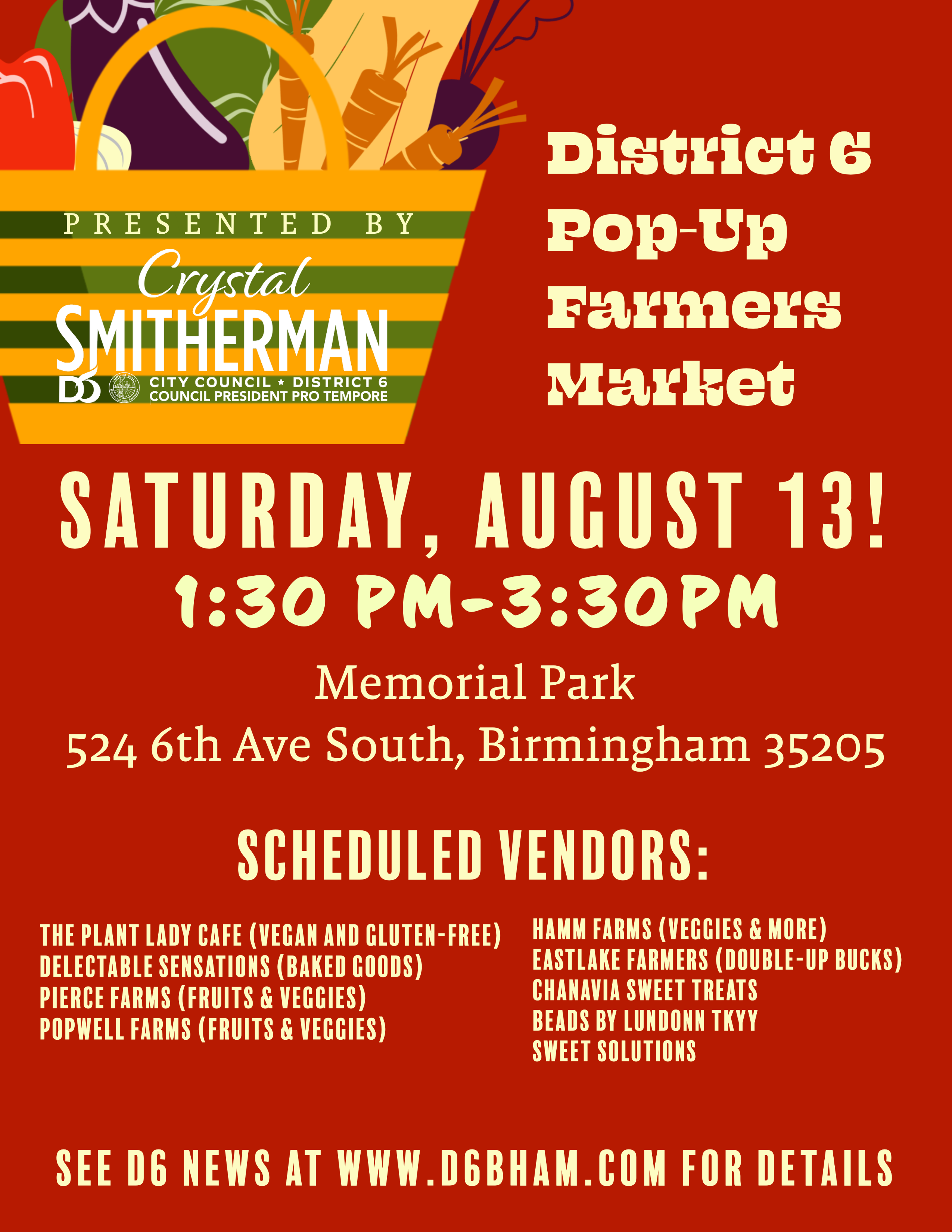 We are excited to announce Birmingham City Council President Pro Tem Crystal Smitherman's Monthly Pop-Up Farmer's Markets to be located in her Council District 6 of Birmingham beginning the 2nd Saturday of May and continuing each 2nd Saturday throughout the summer and fall. It is Pro Tem Smitherman's goal to help bring fresh foods and other locally-made goods to her constituents.
Our Pop-Up Farmer's Markets will rotate each month to three high-traffic areas within a small area of Birmingham's District 6: Memorial Park in May and August, Bethesda Family Life Center in June and September, and West End Public Library in July and October.
SENIOR VOUCHERS ACCEPTED by certain farmers (subject to change)
EBT CARDHOLDERS get DOUBLE UP FOOD BUCKS for Fruits and Vegetables!
Participating Farmers and Food Vendors (subject to change daily)
CHECK BACK OFTEN FOR AN UPDATED LIST OF VENDORS.
August 13 Market at Memorial Park:
Eastlake Farmers Market & PEER offering Double Up Food Bucks for EBT Card holders
Hamm Farms (fresh vegetables, canned goods, birdhouses)
Delectable Sensations (Baked goods, cookies, cakes and brownies)
Pierce Farms (Vegetables, Fruits, Canned/Preserved Foods, Prepared Foods)
The Plant Lady Cafe (Gluten-free foods, Healthy fruit juices, herbal teas, Seamoss)
Popwell Farms (fruits and vegetables)
Sweet Solutions (Cookies, pound cake, German chocolate cake, banana pudding jars, red velvet cake jars, peach cobbler cake)
Beads by Lundonn Tkyy (Custom made bracelets)
Tower on Tenth (learn about new apartments in Five Points South)
MedsPLUS Consulting & Brother Let's Talk
Updated 8/8/22