Birmingham City Council President Pro Tempore Crystal N. Smitherman, Esq. is Chair of the Public Improvements and Beautification Committee, Chair of the Budget and Finance Committee and a member of the Parks, Recreation, and Cultural Arts and Public Safety Committees.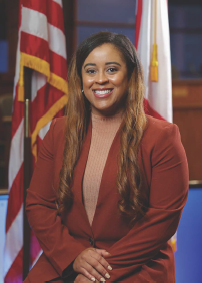 The Birmingham City Council appointed Councilor Crystal N. Smitherman to the vacant District 6 seat on January 2, 2019. Councilor Smitherman was elected to a four-year term in 2021 and was elected by council peers to serve as President Pro Tempore.
President Pro Tempore Crystal N. Smitherman earned her Juris Doctorate Degree from the University of Alabama School of Law in 2019 and graduated from Hampton University with honors in 2015. She has worked extensively as a Legal Intern for several law firms in the City of Birmingham and served as an Outreach Education Contractor for Girls Inc. President Pro Tempore Smitherman was admitted to the Alabama State Bar in the fall of 2019. She currently practices with her father at Smitherman Law Office, LLC.
Coming from a strong lineage of public servants, President Pro Tempore Crystal Smitherman has always looked up to her father, State Senator Rodger Smitherman and mother, Judge Carole Smitherman for guidance on how to serve the public. President Pro Tem Smitherman brings her own brand of leadership to District 6.
As she states:
My family has lived in Titusville for generations. Growing up, my siblings and I remember when West End and Titusville were vibrant communities. We would go to Leonard's Bar BQ and Burger Hut to get my favorite pork chop dinner. We would go to Robert's Cuisine for Sunday dinner. Entrepreneurs with locally-owned businesses served the community including barbershops, car and shoe repair shops, and local meat markets.
Growing up you never had to leave inner-city Birmingham, unless you were going out of town for services. There was hardly any crime. We would ride our bikes to the grocery store in the Heritage Town Center without fear of harm coming to us. We would dribble our basketballs from our house to the park and play pick-up games until the streetlights came on.
Now when we walk out the door, we hear gunshots, trash is constantly present on the streets, abandoned and fragile houses are on every corner. Open prostitution continues to plague certain streets. The same problems that existed under former City Councilors; my mother and Sheila Tyson still exist today, but it is time to break the cycle and find workable solutions to these problems. New solutions for old problems.
District 6 will concentrate on three immediate areas of relief for the citizens: the 3 E's; "Environment, Education and Economy".
District 6 plans are to continue to improve neighborhoods for good, productive citizens by removing dilapidated houses, overgrown lots, reducing crime, increasing affordable housing, and renovating public housing. Working hard, being prepared and creating meaningful partnerships will be the cornerstone of this administration.
I will work hard to make the Council, especially the community and my mother proud of my commitment to District 6. Representing the millennial generation is a task that I do not take lightly. There has to be a closing of the gap between the young and older generations. As young adults, we have to stand on the shoulders of those with more wisdom and experience who came before us. We are all one city, no matter the age.
Community Service
Delta Sigma Theta Sorority, Inc.
Kiwanis Club of Birmingham
Junior League of Birmingham
Rotaract Club of Birmingham
Railroad Park Board of Directors
Red Mountain Board of Directors
Girl Scouts Board of Directors
Affiliations
State Bar of Alabama
American Bar Association
Birmingham Bar Association
Magic City Bar Association
Leadership Training
William R. Harvey Leadership Institute, Hampton University, 2011-2015
Harvard University Leadership Institute, 2020