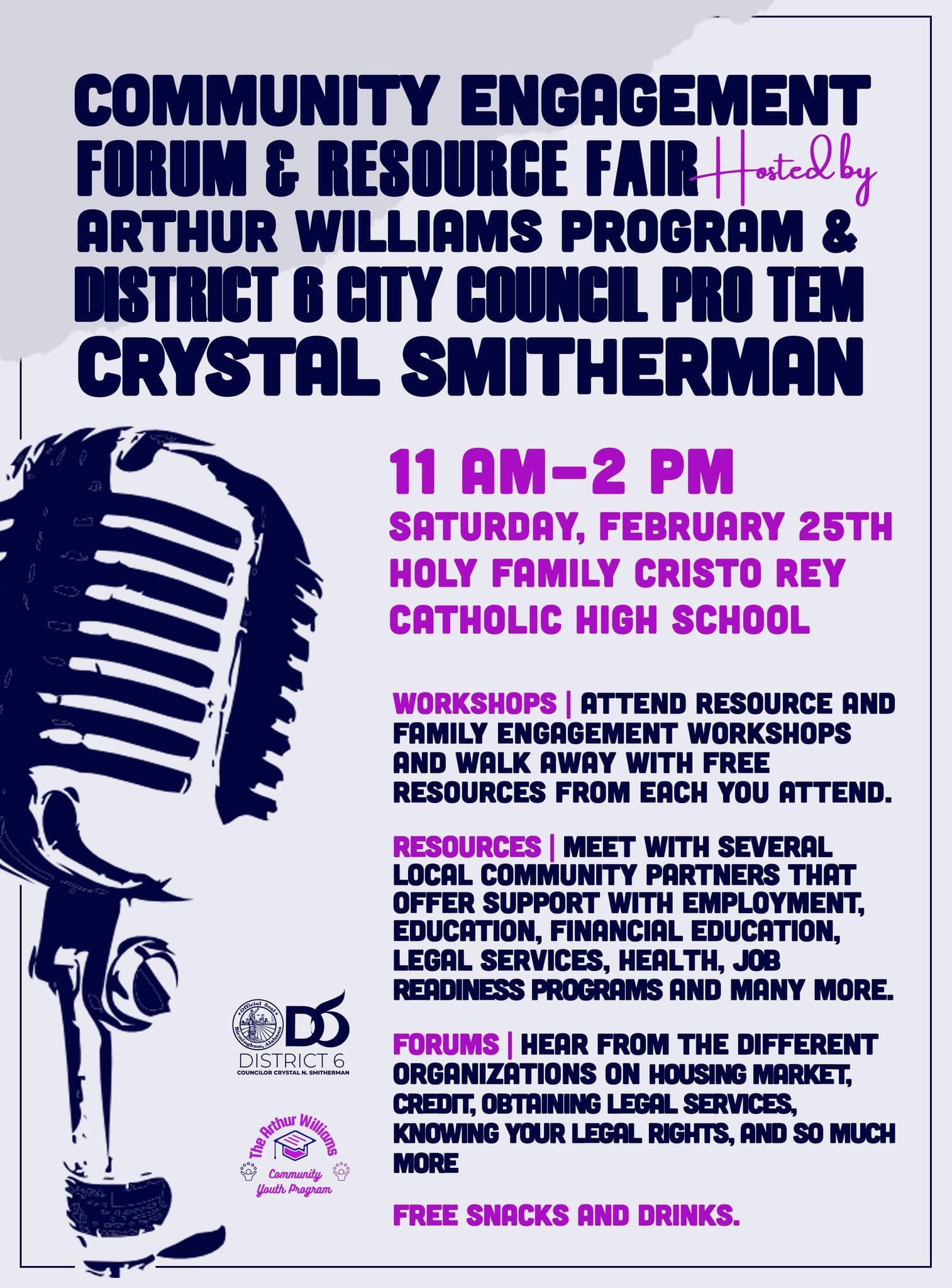 COMMUNITY ENGAGEMENT FORUM & RESOURCE FAIR hosted by
ARTHUR WILLIAMS PROGRAM & DISTRICT 6 CITY COUNCIL PRO TEM CRYSTAL SMITHERMAN
11 AM-2 PM
SATURDAY, FEBRUARY 25TH
HOLY FAMILY CRISTO REY HIGH SCHOOL
WORKSHOPS | ATTEND RESOURCE AND FAMILY ENGAGEMENT WORKSHOPS AND WALK AWAY WITH FREE RESOURCES FROM EACH YOU ATTEND.
RESOURCES | MEET WITH SEVERAL LOCAL COMMUNITY PARTNERS THAT OFFER SUPPORT WITH EMPLOYMENT, EDUCATION, FINANCIAL EDUCATION, LEGAL SERVICES, HEALTH, JOB READINESS PROGRAMS, AND MANY MORE.
FORUMS | HEAR FROM THE DIFFERENT ORGANIZATIONS ON THE HOUSING MARKET, CREDIT, OBTAINING LEGAL SERVICES, KNOWING YOUR LEGAL RIGHTS, AND SO MUCH MORE
Organizations and Professionals participating:
Birmingham Public Library
Renasant Bank
Community Care Development Network
Attorney Ronnie Rice
Gilberto Herrera (Birmingham Urban League)
International Brotherhood of Electrical Workers
YWCA
Titusville Development Corporation
Alabama State University Campus Recruiters
Humana Health Insurance
Birmingham Black Nurses Association
Build up Community School
Jefferson County Family Resource Center
FREE SNACKS AND DRINKS.