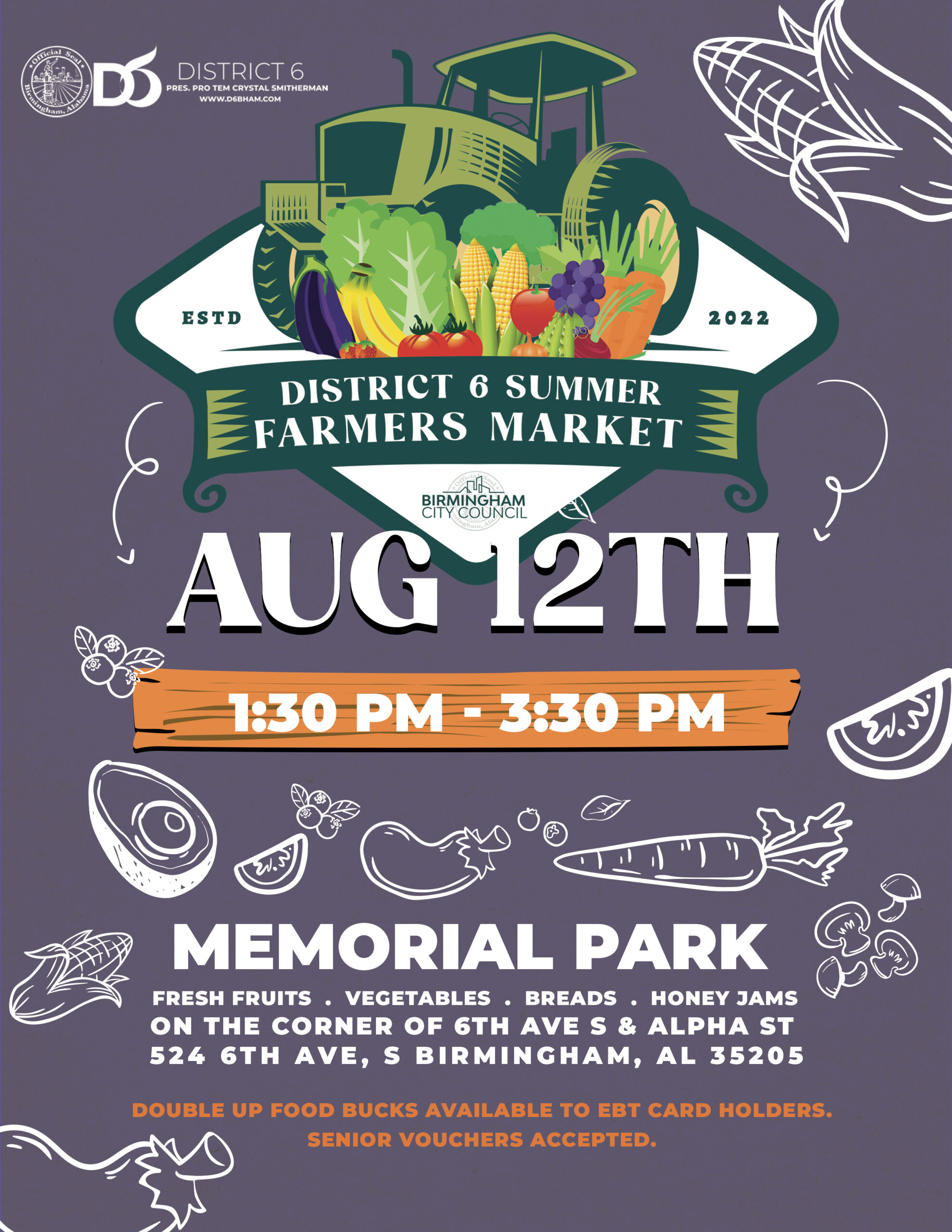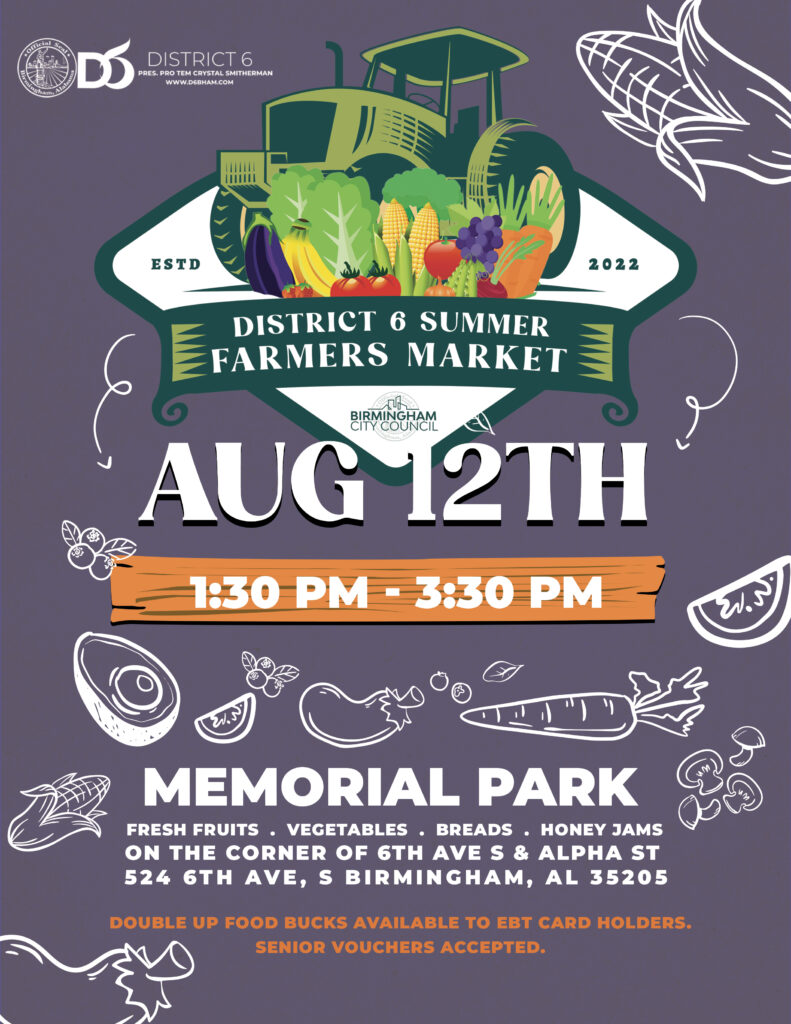 Pro Tem Crystal Smitherman will host monthly Farmer's Markets at Memorial Park each 2nd Saturday from 1:30 pm until 3:30 pm. Please make plans to attend and support our local farmers and vendors. Double Up Food Bucks, EBT Cards and Senior Vouchers accepted by qualified farmers. Markets will be held on the corner of 6th Ave South and Alpha Street South. 524 6th Avenue South, Birmingham, AL 35205.
VENDORS REGISTERED FOR AUGUST MARKET
Near to Me Dispensary: CBD/Hemp products. Gummies, bathbombs, cereal bars, drinks, novelty items.
Simply Johnson & Family: Canned/Preserved Foods, Prepared Foods, baked goods, sweet and savory. We also have canned items and salves. Etc
Mattie's Garden: Locally-grown Organic Vegetables
Lemonade Junkeez: Fresh Squeezed Lemonade with various flavor options.
Kissed By The Gods LLC: Candles/Soaps/Lotions; We sell natural, organic and vegan soaps and body butters. We make sure we add the best ingredients to our products. No harmful chemicals and no parabens.
It's All Good: "Vegetables, Flowers/Plants, Prepared Foods, Certified Organic, Art/Pottery/Craft Items"           
Birmingham Talks: Birmingham Talks provides a free program for parents called LENA Start. I teach parents over the course of 8 weeks how to increase talk and interaction with their children ages 4 and under. One unique component of our program is parents are able to see data on the number of words their children are hearing to support their efforts in increasing their literacy. At the end of this experience we celebrate all of their efforts with a wonderful graduation as well as with incentives throughout our time together. I am grateful for the opportunity to spread awareness about this free and effective resource in district 6.
Teariffic Freeze Dried Fruit Teas: Teas / Tea Kits
A Nation's Charm: Jewelry/Clothing/Accessories
Blind Boss Vision: Certified Organic Personal Care Products; I distribute amazing health and personal health products. Premade and instant cleansing teas, hair skin and nail vitamins, liquid vitamins and much more. These products are for people especially minorities to realize how important it is to take care of ourselves internally as well as externally."
SOOTSME: Titusville native Sonya 'Sam' Mitchell is a newly self-published author of a table book titled "Picture the Picture." This inspiring book consists of unique pictures and scriptures and is great for all ages. Sonya believes in supporting local; therefore she is using Rocky Heights Print and Binding of Birmingham as her printer. Giving back is of utmost importance which is why Sonya who is a graduate Washington School (Titusville) has volunteered and worked with the students in order to inspire them to picture the picture. Her book is also available at www.sootsme.com.
Shelly Ann's Krispies: Rice Krispy Treats (Pecan Krispies and Original Krispies)
Hamm Farms: Vegetables, Fruits, Canned/Preserved Foods
Jaycee's Snow and Mo: Shaved ice, hotdogs, pulled pork, nachos
Mossy Fusions LLC: We specialize in fruit-infused sea moss gel and sea moss lemonades along with other natural health and wellness items.
PEER, Inc. (East Lake Market): Vegetables, Fruits, Prepared Foods; We will have produce, fruit and baked goods available for purchase. We can also facilitate EBT transactions and Double Up Bucks for the Market as well.
KSR Natural: Frozen/Packaged Foods, Personal Care Products, Candles/Soaps/Lotions"
Mama Afrika Naturals, LLC: Certified Organic Personal Care Products, Candles/Soaps/Lotions"
Camel's Creations: Jewelry/Clothing/Accessories
SEEKING LOCAL FARMERS AND VENDORS!
Farmers and Vendors Register Here: https://d6bham.com/pop-up-market-vendor-registration/